Choose Appropriate version of QuickBooks that's right for you and pay only for what you need
QuickBooks – A well-known accounting product by Intuit. It is the most used and favourite accounting software worldwide. From self – employed to professional accountant all love to use QuickBooks for making their accounting process easy and smooth. Small and medium-sized businesses mostly preferred QuickBooks because of their different custom versions.
QuickBooks is available with many different flavours and functionalities like:
QuickBooks Self Employed
QuickBooks Online
QuickBooks for Desktop
QuickBooks Enterprise
QuickBooks Point of Sale
QuickBooks Accountant
All this QuickBooks versions are available with different features. It is important to understand requirement of features your business having for accounting purpose and make wise decision before selecting particular version of QuickBooks. There are different factors you should consider such as whether your business needs cloud based or desktop version depending on requirement and availability of data, price, number of users available, industry type, customer support, third party integrated application availability etc. For Example, QuickBooks online is cloud based and available to access anytime from anywhere. QuickBooks Enterprise is costlier than QuickBooks Online but it is just like complete ERP System and available with industry specific report functionality and many more.
Below are the QuickBooks' main functionalities and features
QuickBooks for Bookkeeping:
Whether you are small or medium sized business or independent freelancer, QuickBooks helps you and it is made to help you to keep all the accounting &bookkeeping at your end. QuickBooks Bookkeeping is easy to use and smoothly carried out with a few clicks of the mouse.
QuickBooks for Banking:
You can link your bank accounts with QuickBooks, so it will keep records of your banking transactions and help you to manage funds in your bank accounts. This feature helps you to efficiently use your funds in profitable manners.
QuickBooks for Accounts payable&Accounts Receivable:
QuickBooks can manage your finance and accounting process of your business efficiently. It keeps records of your due payments and credits with the all accounts receivable. With the few clicks you can get the report and status of your all accounts payable and receivable for your business.
QuickBooks for Payroll:
You can use QuickBooks software for payroll of your business also. It can manage employees' details, attendance and all the stuff regarding payroll. It helps to save time consuming in maintaining the employees' payroll and utilize their efficiency for the growth of the business.
QuickBooks for Credit Card:
You can use QuickBooks for credit cards transactions also. It can manage all the transactions regarding credit cards with details and also manage credit card reconciliation. It is beneficial to use QuickBooks for all your finance and accounting needs.
QuickBooks for Invoices:
Invoices are the fundamental instrument of any business and QuickBooks manage all the invoices regarding transactions in a smart way.
Now question is which QuickBooks version you should choose for you or your business.
QuickBooks give all the choices and options to its user to select appropriate version for their business.
Keep below points in mind while selecting the QuickBooks version.
Need of cloud base or desktop version of QuickBooks
The size of your business and accounting transactions made in your business
The monthly budget you can spend to purchase the QuickBooks software
Use of QuickBooks saves time and increase business proficiency
For which section of accounting you want to use QuickBooks E.g. for Payroll or Invoices
Need to hire special person for operating QuickBooks?
Would it help to grow business and make accounting process smooth?
Moreover, generally QuickBooks is most popular among the all scale business world-wide, so there will be no hesitation to choose it. If you don't have proper idea or it is difficult for you to select appropriate QuickBooks version for your business,please Contact us.
1.    QuickBooks Online
QuickBooks Online is cloud based accounting software and best suit if you are working in multiple locations. With QuickBooks Online, it is easy to access your data remotely from devices connected to the internet. QuickBooks Online is better option compared to QuickBooks Desktop when you need remote capabilities.
Compare below features of QuickBooks Online and choose appropriate plan suitable for your business.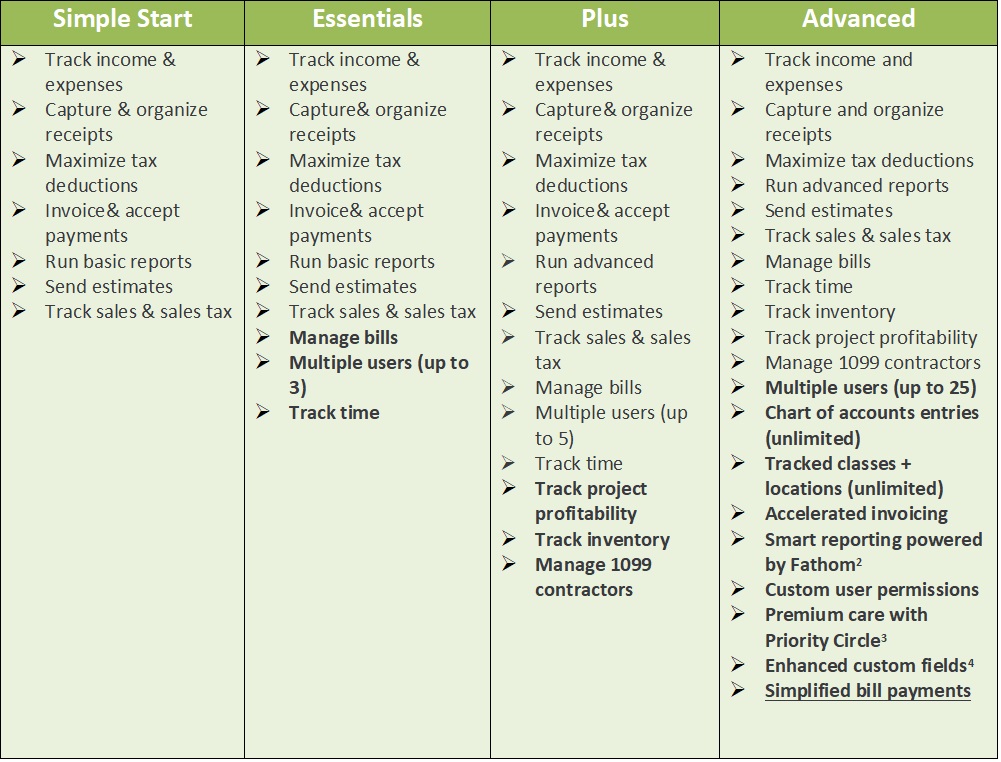 Suitable to whom
2.   QuickBooks Pro and Premier
A. QuickBooks Pro
QuickBooks pro is suitable to small and medium sized businesses who needs core accounting features. It is available with three or fewer users to access financial data.
QuickBooks Pro Features
QuickBooks Pro is capable and made with the all capabilities of accounting software. It comes with all features of generating financial statements and creating invoices with all the banking transactions.However, QuickBooks Pro does not support some industry-specific reports, inventory tracking and unbilled time by customer like Premier.
Here is the main list of QuickBooks Pro features as below:
√  Available upto 3 Users
√  Accounts Receivable Management
√  Accounts Payable Management
√  Estimates Creation
√  Generate Invoices
√  Creating purchase orders
√  Manage sales tax
√  Inventory management
√  Manage multiple currencies
√  Producing more than 100 financial reports
√  Invoice Status Tracker
√  One click transfers of credit across customer Jobs etc.
QuickBooks pro comes with some limitation at the time. You can handle a total of 14,500 customers, vendors and employees and 10,000 records of fixed assets and chart of accounts each. QuickBooks software performance will be slower down considerably as you get closer to these limits. By contrast, QuickBooks Enterprise can handle up to one million customers, vendors and employees combined.
B. QuickBooks Premier
QuickBooks Premier provides industry-specific functions and reports for five industries. Manufacturing, retail and wholesale, professional service firms, general contractors, and non-profit organizations in addition to a normal business option if you don't need these industry-specific features.
QuickBooks Premier is ideal for businesses having revenues under $1 million per year and fewer than 20 employees. These industry-specific versions come with combined features of customized chart of accounts list, products and services lists and reports that you won't find in QuickBooks Pro.
QuickBooks Premier Features
QuickBooks Premier is suitable to those businesses who needs additional features of forecasting tools, inventory functionality, and industry-specific tools &reports in addition to all features of QuickBooks Pro.
QuickBooks Premier includes the following features:
√  Tracking multiple units of measure
√  Generating and viewing of past bank reconciliation reports
√  Sales Order Management
√  Different Price levels creations
√  Department and location wise balance sheet report
√  Business planning and forecasting
√  More than 150 Industry-specific reports
√  Invoice Status Tracker
√  One click transfers of credit across customer Jobs
√  Easily track accruals of employee sick and vacation time etc.
If you want to maintain multiple units of measurement of your product, you should go with QuickBooks Premier over Pro. QuickBooks Pro does not have these features.
3.   QuickBooks Enterprise
QuickBooks Enterprise is "complete ERP System" of the QuickBooks Desktop product line.It provides up to 30 users, making this the best alternative for mid- to large-sized businesses.Businesses having revenue over $1 million per year in sales and have employees between 20 to 250 should go for QuickBooks Enterprise.
QuickBooks Enterprise comes in the following industry-specific versions having customized chart of accounts, a customized products and services list, and custom reports for each industry over and above general business version:
•  Nonprofit organizations
•  Manufacturing & wholesale
•  Accountant
•  Contractor
•  Retail
QuickBooks Enterprise Features
QuickBooks Enterprise combines every feature that both QuickBooks Pro and QuickBooks Premier have. In addition to that, QuickBooks Enterprise provides features such as advanced reporting for generating customized financial statements, a fixed asset manager, and a new pick-pack-and-ship inventory process. QuickBooks Enterprise also has more data capacity than Pro and Premier.
Main features included in QuickBooks Enterprise are:
√  More than 150 industry specific reports and tools for creating customized financial statements
√  Quick processing
√  More transactions
√  Parent and subsidiary companies reporting
√  User wise permissions
√  Multiple location tracking & reporting
√  Mobile Inventory bar code scanning
√  QuickBooks Accountant Desktop tools for reviewing client data and sending journal entries back to the client hold data for up to 1 million customers, vendors, and employees jointly and up to 100,000 accounts on the chart of accounts as opposed to 10,000 for QuickBooks Pro, Premier, and Accountant.
4.   QuickBooks Accountant
QuickBooks Accountant offers Accountant's Toolbox including all features of QuickBooks Pro and Premier.Availability to combine in the QuickBooks ProAdvisor, it is tools for bookkeepers to review client files. It offers special feature of entering batch transactions where Accountant can run the client data review utility. Moreover, for ease of working, this version allows opening two company file at the same time.
QuickBooks Accountant Desktop Plus Features
QuickBooks Accountant Desktop Plus includes all features of QuickBooks Pro vs Premier.
To work smoothly with client's data file, the Accountant's version of QuickBooks has following additional features:
√  New Inventory report filter with include or exclude inactive inventory items
√  One click transfers of credit across customer Jobs
√  Merge Duplicate Vendors
√  Multi Monitor Support
√  Advanced Search Functionality
√  Bulk Delete or void transactions
√  Batch enter and reclassify transactions
√  Write off multiple invoices in one screen
√  Find & fix entry errors with Client data review
√  Open two companies at a time
√  Troubleshoot inventory issues
√  Run a working trial balance report
√  Manage fixed assets etc.
QuickBooks Desktop Enterprise Accountant Edition Features
QuickBooks Desktop Enterprise Accountant provides tools to manage and review data files from clients who use QuickBooks Enterprise. It contains all features of QuickBooks Enterprise.
Features unique to QuickBooks Desktop Enterprise Accountant Edition:
√  Client data review with features to reclassify multiple transactions at once,
√  fix incorrectly recorded sales tax payments
√  Securely store client passwords
√  Organize QuickBooks files by client and upgrade clients' file in batches
√  Send journal entries to client for any changes needed in clients' file
√  Set individual user roles and permissions for more than 115 different activities, including payroll etc.
We at, CapActix are renowned name in providing finance and accounting services globally. We are prominent accounting outsourcing company based in India. We can help you with QuickBooks Accounting and QuickBooks Setup to make your accounting simple and hassle-free. For more details you can reach us on [email protected]. or call us on +1 201-778-0509.