How QuickBooks Accounting Services Can Speed Up Accounts Receivable Management?
Cash is the backbone of all businesses. Especially for startups and small businesses as they already have limited cash flow. Therefore, it is crucial to manage your cash flow properly; otherwise, payment delays, inability to pay employees, incursions of heavy interests, and other financial issues will impact your business.  
It is quite challenging to manage accounts receivable in a timely manner while operating day-to-day business activities. But, if you are using QuickBooks accounting services, you can handle accounts receivable without any delays.  
QuickBooks bookkeeping services have already been serving more than 200,000 customers. This accounting software has eased finance and accounting management dramatically for small and big companies. QuickBooks has made it possible to manage AR smoothly with quick entries, various analytical reports, and prompt responses.  
QuickBooks has many underlying features that can make AR management super easy, and all those features we are going to discuss in this post. So, brace up, and let's start.  
QuickBooks have multiple features to streamline the cash inflow and outflow system. But, if you are first time using QuickBooks bookkeeping services, you should definitely get leverage from the following features: 
Run 
Aging
 Report 
Usually, when an invoice is sent, your customers have to send payment within 30 to 60 days. It is essential to receive a payment within a strict timeframe because you can't function without adequate accounts receivable balance. This will make it harder to run daily business operations and pay your bills.  
QuickBooks aging report analysis can help by showing which customers are delaying payments. And you can review the cash flow statement with one click to know how much cash you have on hand to settle your bills and payable accounts.  
On QuickBooks, the aging report can be prepared very easily by: 
Go to the 'Reports' menu and click on 'Customers and Receivable.' 

 

Next, select the '

AR

 

Aging

 Summary' or the general 'Accounts Receivable.' 

 

Click the 'Dates' button and range dates from where you wish to view pending payments. 

 

Your 

aging

 report is ready that you can easily print by clicking on the 'Print' button. 

 
Once you have printed the aging report while analysing it, do remember a few things: 
If you 

authorized

 long credit terms to specific customers, it will make your items appear overdue or not at all overdue. So, you have to beware of such special credit terms while reading an 

aging

 report. 

 

The bill range needs to be selected very carefully. That's because if your invoices are billed to clear at the end of the month, and you run the 

aging

 report on the last days, it will show an outstanding 

AR

 balance. 

 

Clean up unapplied credits to reduce the amount of the overdue receivables.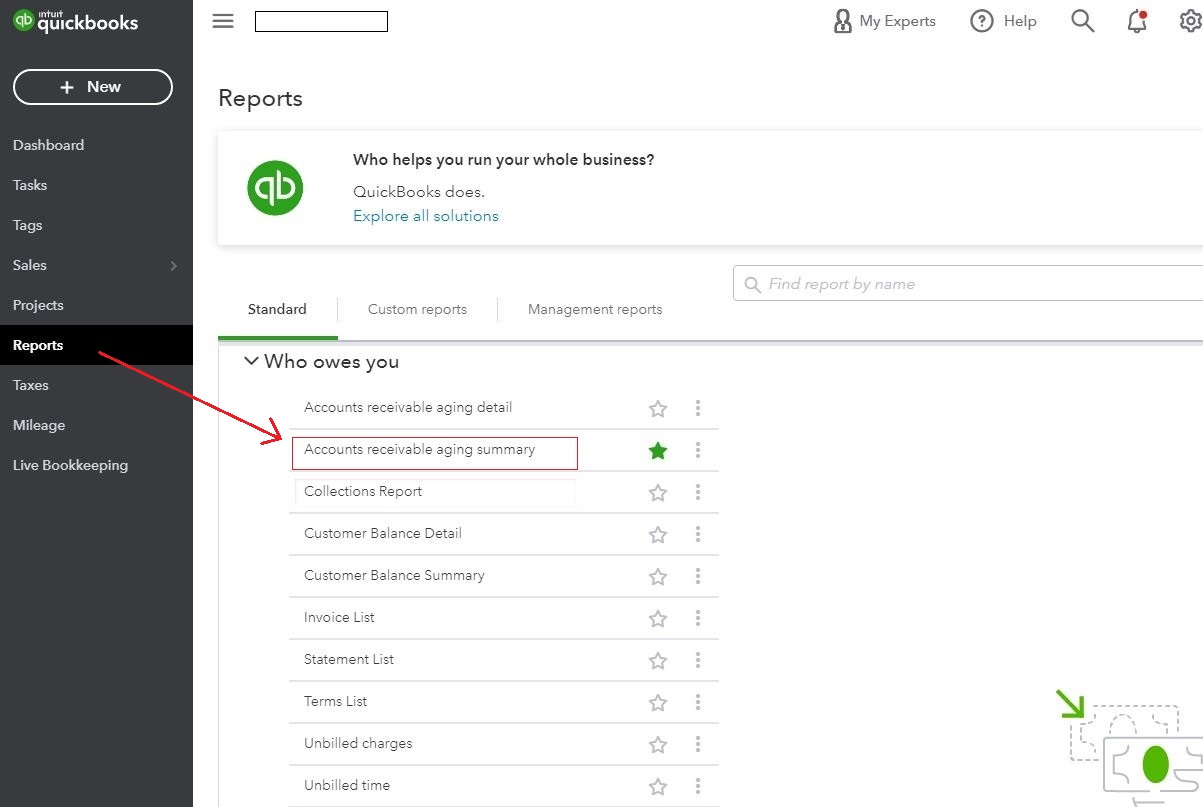 Apply Finance Charges 
At CapActix, applying finance charges is our next outsource QuickBooks bookkeeping step after running the aging analysis. Typically, we apply finance charges based on monthly or statement cycle. It is a percentage of customers that have missed payments.  
Finance charges can be simply customized on QuickBooks via going to the Edit > Preferences > Finance Charge. You'll be given multiple options to select charge, including the Annual Interest Rate, Grace Period, Finance Charge Amount, and many more.  
It is an effective way to encourage your customers to pay on time. However, before implementing finance charges, do consider some items first: 
Will it alienate your certain customers?

 

Are your finance charges based on the past due invoices?

 

Have you clearly mentioned finance charges in the first invoice?

 

Are you enforcing finance charges without prior informing your customers?

 
Initiate Online Payments 
With QuickBooks accounting services, you can use quick online payment methods to provide payment clearance comfort to your customers. QuickBooks online payment feature can be activated by going to Edit > Preferences > Payments. Online Payment supports—mailed-in checks, gift credit cards, direct bank, PayPal, and many more.  
This feature facilitates users to click on a link or directly email invoices. The payment on the invoice through a protected payment link can encourage your customers to pay quickly. Online payment can dramatically reduce overhead costs like printing checks, postage expenses, and much more. QuickBooks can easily streamline your payment methods and improve your accounts receivable.  

Send Quick Reminders
When you have to search your each payment delayer and call or send a personalized email reminder, it will take up lots of time. Now, when you can send friendly collection letters to your customers with QuickBooks, you don't need to go through all manual hassle.  
QuickBooks can automate the process of sending reminders via email. The variety of pre-packaged collection letters comes with QuickBooks that you can use to send reminders in one go. These Microsoft Word templates will automatically acquire data from your QuickBooks file to create a personalized collection letter.   
You can access collection letters in QuickBooks from the Customer Center and select the 'Prepare Collections Letter' button. By simply following the wizard, you'll format a friendly, professional, and personal collection letter.  
Generate Collection Reports 
Similar to the aging report, you should use QuickBooks collection reports to send reminders to overdue customers. By clicking on Reports > Customers and Receivable, you can get any customer details. You'll get the name, contact number, and invoice of a person who has not cleared payment on time. These QuickBooks accounting services always help us to keep our clients' cash inflow intact.  

Timely Invoice Management 
If you have years old invoices saved up in your QuickBooks account, it can create chaos and even impact the current AR balance. At the same time, if you don't record current invoice entries in real-time, it can show the wrong accounts receivable balance. Therefore, QuickBooks has simplified the invoice entry process so that you can get the exact numbers: 
Tap on the 'Customers' menu and select the 'Receive Payments' option. 

 

Next, click on the 'Received From' and pick your customer from the drop-down menu. 

 

Enter information in all the relevant fields like Amount, PMT method, Check, and Date. 

 

Just click on 'Save & Close' to record payments. 

 
Bottom Line  
With QuickBooks, you can easily manage your accounts receivable and maintain a proper cash flow. But, for effective AR management, it is essential to use the best QuickBooks accounting services. If your accountant or bookkeeper doesn't know how to utilize QuickBooks to improve AR management, you can't take full leverage from the best accounting software.  
Therefore, if you wish to outsource QuickBooks bookkeeping services at affordable rates to keep your cash flow intact, you can contact us on email – [email protected]. or can call on +201-778-0509.