What Experts say about Offshoring Accounting & Bookkeeping
Accountants are facing multiple challenges when it comes to Accounting and Bookkeeping. And the work has all the more increased year after year. It is nerve-racking for them to cope with all the demands and requirements posed by clients from various industries. With the rise of cloud accounting, accountants are expected to be more and more technical. Artificial Intelligence has contributed to the accounting industry with automated tools that demand practice and knowledge. And there's a major lack of IT Literacy, which bottlenecks the accounting and bookkeeping process. 
Expert Opinions on Offshoring Accounting
The moment CPAs hear about offshoring accounting and bookkeeping, they are clouded with hundreds of thoughts that are misconceptions. Although entertaining those doubts is very important, you can use those doubts as filters for choosing the right offshore partner.  
Here are a few accounting experts that share their opinions on offshore accounting.  
Dan Geltrude

(Managing Partner @ Geltrude & Company
)
"In the last 2 years, more than 300,000 accountants have left their jobs, and on the other side, they don't have enough accounting majors. So, this squeeze that the accounting profession is experiencing is serious because you can't get the work done. Accountants are always under pressure and on top of that more and more rules and regulations are being put out there, so you have to do more work with fewer people. To do that you got to turn to using more technology or look towards the international solution to be able to supplement the shortage of US workers."
Dan Geltrude is the Managing Partner of Geltrude & Company, he has been approached for business consulting and financial planning by various companies. He has also become the "go-to expert" for different media outlets.  
Jeff Bezos



(Executive Chairman @ Amazon)
"Your major bottleneck in developing your ideas and your successful products and service offerings turns out to be something that's not unique to your business at all. It's completely undifferentiated. 
This is certainly true at Amazon.com, and it's certainly been true from the very beginning from one person to twelve thousand people: that at least seventy percent of your time, energy and dollars, go into this back-end heavy-lifting infrastructure. I call this heavy-lifting, muck.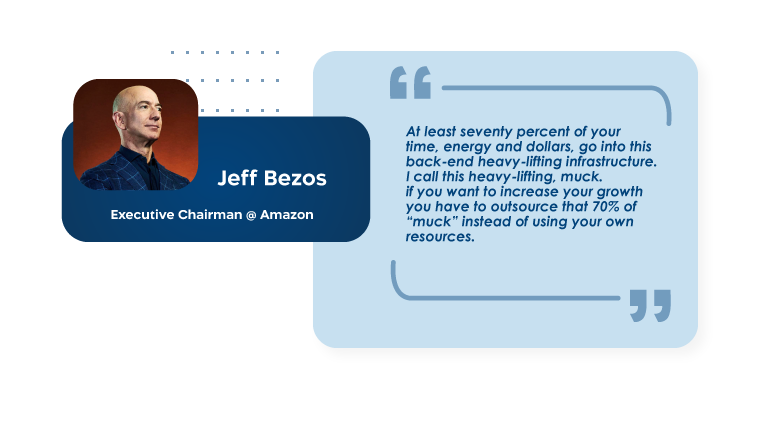 Jeff Bezos revealed to the audience that if you want to increase your growth you have to outsource that 70% of "muck" instead of using your own resources. 
Rob Satrom



(Founder & President @ Feedbackwrench)
"Accounting Firms have started becoming much more profitable after starting to offshore accounting services to firms internationally. Most CPAs don't realize that CA (Chartered Accountants) in India is equivalent to CPAs. They have been through a rigorous accounting syllabus and years of accounting internship which adds to their impeccable output. When US Accounting Firms at the US outsource AR/AP or any other accounting services to offshore firms, CPAs don't have to waste time reviewing and constantly monitoring journal entries. They can focus on business planning and financial consulting services that CFOs provide."  
"Accountants who recruited offshore staff were able to get back to growing their business. The offshore staff is well able to handle the routine transaction with clients."
"PwC wanted to send 20% of its core audit hours to India by 2014, this would have been a leap from the 1-2% of work being outsourced at the time that article was written 10+ years ago.  Prior to the pandemic, about 6.2% of accounting firms used offshore staffing, post-pandemic that number grew to 41.3% with many more firms not currently offshoring but open to the idea." 
Warren Buffet

(Chairperson of Berkshire Hathaway)
Warren Buffett has always supported the idea of outsourcing jobs overseas. He believed we should enjoy equal or higher productivity at lower costs if the options are available.  
"If there's not enough growth in an industry to support all of the players, it's in society's best interests to have the most output produced with the least inputs – but society needs to help those who find themselves on the outside." – Warren Buffett, Berkshire Hathaway AGM, 1997 
Tim Ferriss

(American investor, author, and podcaster)
"There are people I have outsourced to in India. It's the efficient use of capital, and if you want the rewards of a free market, if you want to enjoy the rewards of the capitalist system, these are the rules by which you play."  
Larry Elder

(Radio Commentator @ KABC Radio – LA)
"Outsourcing and globalization of manufacturing allows companies to reduce costs, benefits consumers with lower-cost goods and services, causes economic expansion that reduces unemployment, and increases productivity and job creation." 
Why should you offshore your accounting?
Accountants have started accepting offshoring at an increasing rate. Post-Pandemic, even the smaller accounting firms began offshoring as they saw the rewarding benefits that come with it. Accountants can focus on so much more when they choose to offshore. Here are a few benefits of outsourcing your accounting and bookkeeping services. 
Minimize Errors 
When you are running an accounting firm, you encounter countless challenges. There are so many functions and activities that require your attention. It gets very difficult if you manage accounting and bookkeeping along with everything else. Now you might be able to manage it all. But being effective at it is a different thing.  
If you outsource your recurring accounting and bookkeeping tasks, the offshore accountants working on your project will be specialized at that specific task. This will minimize accounting errors and maximize efficiency. You will have more quality control than before, as you have more time to review what's been done
Scalable on Demand
When you partner with an offshore accounting firm, you can scale your operations on demand. Offshore Accounting Firms invest in accountants with the sole purpose of providing adequate support to clients. Let's say, you are approached by a client who has a ton of work with a stringent deadline. You will need to increase the manpower immediately, it's possible to do that with an offshore partner.  
And once the project completes, you have an option to scale down on the employees and keep only the necessary. This flexibility is almost impossible to achieve with an in-house staff.  
Access a Talent Mine
Offshoring your accounting and bookkeeping connects you with skilled accounting professionals who have years of accounting expertise in GAAP (Generally Accepted Accounting Principles). You don't need to invest time in training as they have handled multiple US clients from various industries.  
Many times, geographical or circumstantial factors affect the availability of exceptional accounting talent. Through offshoring you can overcome those hurdles. 
Latest Accounting Software
Offshore accounting firms have catered to multiple clients from various countries. So, they are aware of modern accounting trends like cloud accounting and other software technicalities. You can also opt for software consulting services from them, where they will help you set-up and implement the latest accounting technologies.  
Conclusion 
Having doubts about offshoring is understandable. But the number of accountants who are leveraging offshore accounting is far greater than the ones still doubting it. Your doubts might be well placed, but surely there's no harm in trying. Only when you personally jump into the water and try it for yourself, you will know it's benefits.  
CapActix has partnered with hundreds of clients at a 93% retainment rate. We have opened offices in different cities in India so that we can provide uninterrupted on-demand support.  
If you still have not made up your mind, you can opt for a 15-hour free trial, and then decide for yourself. Get in touch with us now. [email protected] or call +1 201-778-0509 
You can also schedule a meeting at the time slot that works best for you – Schedule Your Meeting Now